VESTNER COMMERCIAL LR SERIES
Capable of rising up to 1.0 metres the Ascensa meets your needs, and up to the 1.5 metres the Extollo is the answer, in each of these ranges there is 3 models to choose from, so we have you well covered at Vestner.
Vestner, your open platform lift specialists, New Zealand designed and manufactured.
This lift is suitable for a wide range of settings, including retail shops, public buildings, educational facilities and other such properties.
Find out more about the key features and options of the Vestner LR Series below.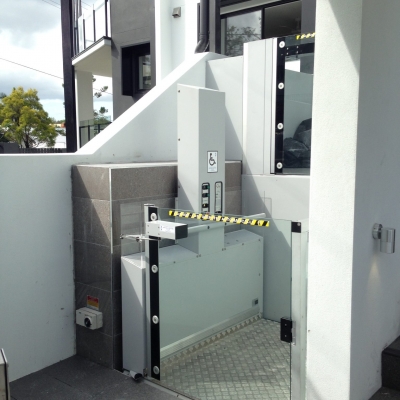 Free-standing design that bolts directly onto a concrete pad or timber floor without the need for a pit, bore or load bearing wall
Limited site preparation and easy installation
Connection to a standard power supply (RCD protected)
Installation when undertaken by Vestner includes inspection by a independent CBIP Certified Level 2 Lift Inspector (PS4 provided to client)
COMPLIANCE
Compliant to New Zealand Standards and New Zealand Building Code :

NZS 4334:2012 Platform lifts and low-speed lifts
NZS 4121:2001 Design for Access & Mobility – Buildings &  Associated Facilities
D2 2002 Mechanical Installations for Access
Compliant with National and International Disability Codes and Recommendations
Independently Design Reviewed with Certification

Compliant to Australian Standards and Design Registered
All consent documentation is available
ACCESSORIES & OPTIONS
A full range of accessories is available to further compliment the lift and meet specific client needs or requirements of the lift location.  Refer accessories listed on the product brochure.
Lifts can also be custom designed and manufactured where required.
1.5 metre maximum rise
Easy to operate controls
Built-in safety features
Battery power in event of power outage
Low running costs
Compact design
Suitable for use in both indoor and outdoor settings
Range of models to suit specific size and weight requirements
New Zealand designed and manufactured
Nationwide network of installers